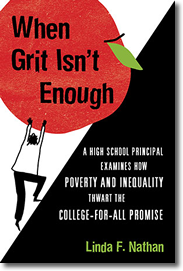 In When Grit Isn't Enough, Linda Nathan investigates five assumptions that inform our ideas about education today, revealing how these beliefs mask systemic inequity. Seeing a rift between these false promises and the lived experiences of her students, she argues that it is time for educators to face these uncomfortable issues head-on and explores how educators can better serve all students, increase college retention rates, and develop alternatives to college that don't disadvantage students on the basis of race or in- come. Drawing on the voices of Boston Arts Academy alumni whose stories provide a window through which to view urban education today, When Grit Isn't Enough helps imagine greater purposes for schooling.
Buy the book!
Find it at a local independent bookstore: IndieBound 
Linda Nathan, is the Executive Director of the Center for Artistry and Scholarship, a non-profit organization that develops and supports innovative and tenacious leaders in education to build more equitable, collaborative and creative communities. Dr. Nathan is co-founder of the Perrone-Sizer Institute for Creative Leadership (PSi), a year-long graduate certificate program that develops innovative leaders who integrate education, artistic, and community-based resources to transform the lives of youth and families. 
She is also a Lecturer at the Harvard Graduate School of Education, where she teaches courses in school design and school observation. As an experienced leader in education, Linda mentors teachers and principals, and consults nationally and internationally on issues of educational reform, leadership, teaching with a commitment to racial justice and equity, and the critical role of arts and creativity in schools. Linda is also an author with two widely praised books: The Hardest Questions Aren't on the Test and When Grit Isn't Enough.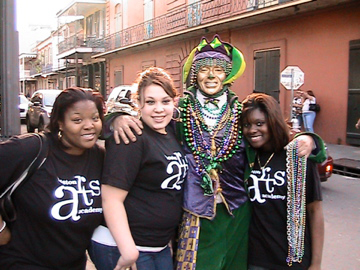 In When Grit Isn't Enough, veteran educator Linda Nathan gives the lie to five popular but unproven beliefs about education that do little to improve schooling but instead blame the victims of poor and unequal schooling. This is a courageous book, one that challenges all of us, educators and non-educators alike, to do better for our most vulnerable students.
Sonia Nieto
It's a marvelous book, and badly needed at this time. Drawing on the powerful stories of children at the Boston Arts Academy, Linda Nathan bravely confronts the widely circulated myth that children who grow up in poverty can overcome inequity and every other daunting obstacle they face if they just 'believe,' 'persevere,' 'work like hell,' and show sufficient 'grit.' Many of these students do prevail, but Nathan makes it clear that 'grit' is not enough and that our adherence to this appeasing myth is letting a divided and bitterly unequal social order off the hook.
Jonathan Kozol
Join the Center for Artistry and Scholarship mailing list
Sign up for the Center for Artistry and Scholarship mailing list to stay in touch!