"Education either functions as an instrument which is used to facilitate integration of the younger generation into the logic of the present system and bring about conformity or it becomes the practice of freedom, the means by which men and women deal critically and creatively with reality and discover how to participate in the transformation of their world."  —Paulo Freire, Pedagogy of the Oppressed
In the mid-80s, the Fenway Program, now Fenway High School, began each year at Hale.  One hundred and fifty teenagers tumbled out of the buses, blinking in the bright sun. Some young men clutched their huge radios to their chests, without the usual bravado they had when they balanced the radio on their shoulders and swaggered confidently along city streets. Young women nervously twisted their earrings, scuffed their sneakers, and scanned the parking lot for a familiar sight. There were none. Suddenly, Joanna, a tiny senior, maybe less than 5 feet tall but with the ease of someone who was used to being in charge, stepped forward. "We're here. Let's get to our lunch spot. Some of you were assigned to carry coolers, others charcoal, blankets, and don't forget the sports equipment. Let's get going!" Her commanding voice jolted the group from its apprehensive reverie.
Slowly the coolers and other items made their way into the appropriate hands, and we trekked the short distance from Cat Rock, the parking lot at Hale, to the beach at Noanet Pond. Our Fenway students were eerily quiet. Huge trees lined the path, arching over our heads into a canopy of green. The wind blew through the trees, and branches rubbed against one another, making an unusual sound—at least one that they weren't familiar with. "What's that noise?" some students murmured. "The trees are welcoming us," a teacher responded. We crested the small hill. Before us the pond glittered, and the sandy beach stretched out like a soft welcome mat. Some students, coolers in their hands, made a mad dash down the hill. We had arrived. We set up our food stations. We divided into our "home groups." Our community day began.
As part of the experience, we had a short reading or poem to appreciate nature and the vastness of this place—maybe a Robert Frost poem about walking in the woods, maybe something more provocative. Maybe simply something about observing. And then we cooked and ate together. That was the big event. We brought lots and lots of food, and Hale had grills under a lean-to, and there was Noanet Pond to wade in. Some kids even swam. (This was before the restrictions about BPS students not entering, even with their toes, any body of water.) We played frisbee,raced on the sandy beach, and explored the woods. The new students couldn't quite believe a beach and sports day was the beginning of school, but here we were, all 150 of us. Capture the flag, team building games, and our favorite classic challenge activity—the group lap-sit. This became a tradition. Could 150 students sit on one another's laps and walk in a huge circle without collapsing? Pictures attest that we did it! As we grew to over two hundred students, we continued to begin school this way and even went on camping trips together. I don't remember sleeping much.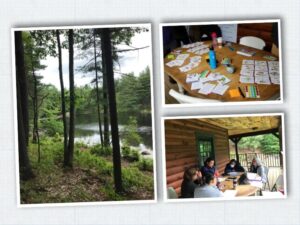 Hale Retreat Day
That was then.
Now almost forty years later, I am back with my Perrone-Sizer Institute for Creative Leadership (PSi) colleagues for a planning retreat. As part of our day, we have some solo time, and Carmen, Will C., Sunny, Lisa, and I go off in different directions. I walk in the woods again. I hike on a trail with three huge rocks at the end. Did I hike here with Fenway students before? Did I tell stories about how the rocks got  there? I listen to the tree branches rubbing, and I am reminded of the awe (and a bit of fear) that this always inspired in our students. I think back to the many camping trips I took with Carmen and our students. I remember our visits to Hale and Thompson Island, and then to Interlochen or Franconia, NH. Those were magical moments. Now, PSi is joining Hale, anchoring its school and professional programs. We get to have an "office" here under this canopy. It feels surreal and special.
I'm a builder of programs and networks and a spreader of ideas. The woods and ponds are filled with natural networks—habitats for birds and animals. And, along these trails, there are cabins—buildings and classrooms for learning and creating community. Our leadership students will become part of this. They will build and grow individually and with one another.
PSi mission's will take hold here: PSi develops a network of adaptive leaders who champion racial justice and equity, integrate artistic and design thinking, and engage youth and families to mobilize teams who transform educational and community-based organizations.
I love this building process, again.
We wonder what new approaches to leadership development might evolve from being at Hale. What will we learn? What will the outdoors teach us again? We also will maintain an office at Orchard Gardens K-8 Pilot School in Boston. How will these two locales strengthen our program and fine tune our values and beliefs? At BAA we developed a set of values that still resonate: passion with balance, vision with integrity, diversity with respect, community with social responsibility. What will emerge for PSi?
Carmen returns from her solo walk and shares that she listened to the songs of the various birds. That led her to think about community. She wrote,
"The flora and fauna that co-exist here in this community know their place/role in this ecosystem and their relationship to one another. I am making an assumption that the birds have figured out how to co-exist in this community. The chipmunks, etc. also seem to 'belong.' I was feeling like an outsider and at the same time 'entitled' to be in this space. I assumed the meaning of the birds' songs. They sounded 'upbeat.' But was I welcomed?"
Carmen, always, asks the questions that spark introspection and contemplation for us as a team. Do we know how to speak "Bird?" she asks us. She reflects on how we as educators may feel "entitled" to enter our students' communities. We may hear the "songs" in their different language and make assumptions about what they are communicating. Carmen reminds us that we don't yet understand "Bird-speak."
What an opportunity we have before us to walk through the woods and stop and learn and listen to this new ecosystem called Hale.
We should do the same in our school communities and with students: "Stop, Read, Ask." We should ask, "Do we know how to speak your language? Are we welcome here yet? How do I build a relationship with you?"
Will C. builds on the question of place and space. What's the difference between being welcomed into a space and ringing a metaphoric doorbell and saying, "I need space here"?
What does it mean to really belong? What can new places teach us?  How might we find new connections and relationships?
However, after over four decades of partnership with Carmen, she is stepping down as Co-Director.  She will always be the Co-Founder, and she will continue to teach and coach our participants. I feel a sense of loss.
Sunny is assuming the role of Co-Directorship of PSi with me. He has vision, energy, humor, brilliance, and a conviction about how schools and education must be different. I have known Sunny since he was Carmen's student teacher in 1997.  Will C. is also moving into a new role: Senior Faculty and Curriculum Developer. I've known Will C. since he was a teenager. He used to come to BAA with his father, who was our Night Senior Custodian. I met Will C. again when he was my graduate student. Then he became my Teaching Assistant at HGSE and brought his keen analytic and performance skills to help me teach the class. I love the perspectives and expertise Sunny and Will C. bring. We are a formidable team. Building with them is exciting.
Maybe I'm like the chipmunk, always finding paths in new places. New challenges. We embrace the future with creative courage and liberatory mindsets. Our participants are adults now. They will then teach the students. I'm looking forward to speaking Bird with all of them here at Hale. And building again.