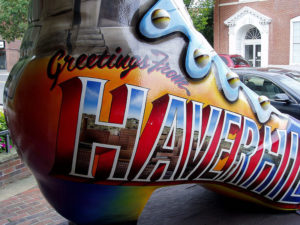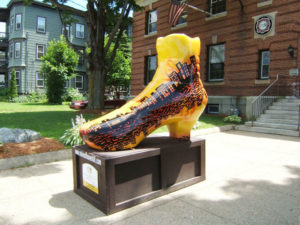 When I think about Haverhill, I think about shoes, and I saw a lot of monuments and statues of shoes around the city. Yes, in the 20th century, Haverhill was a center of shoe production.  Haverhill had a 200-300 year history making shoes from the time in 1646 when a shoemaker, Andrew Greeley, moved to town. By 1914 Haverhill had 126 companies devoted exclusively to manufacturing shoes and boots, and in 1915, 25 million pairs of shoes were being produced there. 
Today, Haverhill is much more than shoes. It is known as a 'Gateway City,'  a term which refers to cities that helped to anchor the regional economy and provided residents with good jobs that would be the gateway to the "American dream."  Yet, for large numbers of Haverhill residents the American Dream has been illusive. Some refer to Haverhill as two distinct cities, with the rich and the poor divided as if by a river. Issues of economics and race define much of civic life- who participates, who is represented, whose voices are heard, and are also reflected in of the student achievement data in the schools.  Massachusetts Department of Education (DESE) uses the term "sub groups" to define students who are non-white and high needs and a look at these data are troubling. Not only does Haverhill not have full-day kindergarten, it also has a nearly 50% drop out rate for African American and Latinx students.  Suspension rates are equally grim. While white students account for only 2.6% of out-of-school suspensions, black and Latinx each account for 5.4% of out-of-school suspensions.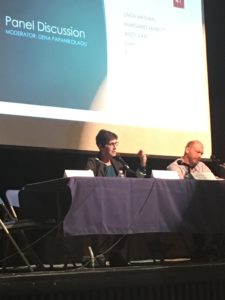 Recently, I participated in a "Haverhill Community Discussion on Equity and Resource Allocation: Challenges for Haverhill Schools."  I was one of the keynote speakers alongside Superintendent Margaret Marotta. Dr. Thomas Grannemann provided some of the starkest data about who takes the SATs in Haverhill and made direct connections between ethnicity and economic status and college attendance and access to SATs.   The ratio of SAT tests taken juxtaposed to graduates is .87 for white students, but an alarming .43 for Hispanic or Latinx students. Furthermore, 75% of white kids went on to attend college for fiscal year 2017-18, in comparison to 55% of Hispanic/Latino students. The statistics become even more grim when considering four-year colleges: 56% of white students went on to attend 4-year colleges, in comparison to only 16% of Hispanic/Latino students.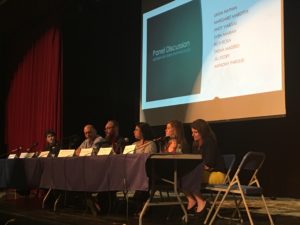 While the data are disturbing, I left Haverhill with a sense of possibilities. The commitment for collective change among the various constituents was energizing, from the Vice President of the teachers' union, to parents, and school committee members.  Superintendent Marotta clearly has her work cut out, but she presents a clear-eyed vision about ways to improve student achievement and what programs and resources are needed to do that. Just a couple of days ago, she outlined her proposal to the School Committee to include funds for free all-day kindergarten in the FY 2020 Haverhill Schools budget.
One of the last questions I was asked was (and I paraphrase): If there were racial equity in the schools, would other disparities be eliminated? My answer was, "Yes." And, I went on to say that if this community could come together to begin what I call "Courageous Conversations about Race," I felt certain that many positive solutions would be implemented.  I was happy to be a part of the beginnings of a change process for Haverhill.