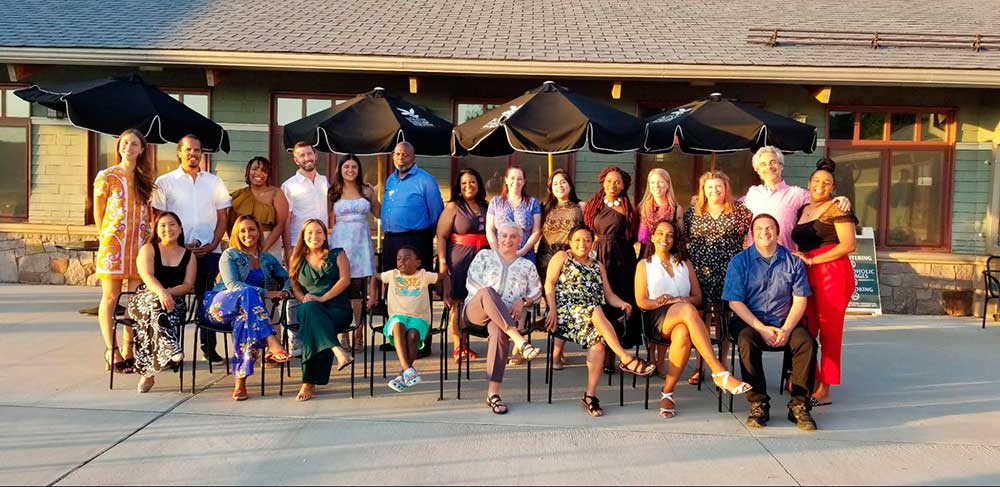 I keep looking at the photo that I keep on my desktop, the wide smiles and expressions of joy. These new PSi alums—who had just stepped away for a moment from a celebration with family and friends to pose for this group portrait—are proud of their accomplishments. So am I, and I can feel my dear friend and PSi Co-Founder, Carmen Torres, who died this spring, smiling down on them as well.
They come from different walks of life, from different personal and professional experiences, but for a year they all committed to learning together about the challenges and opportunities of leadership. They formed a powerful network, practicing both self-reliance and the importance of counting on others. As one said:
I think the network that I have joined in becoming part of PSi will have the most lasting impact on me. I know that there is a dedicated cohort of professionals that I can call on for support.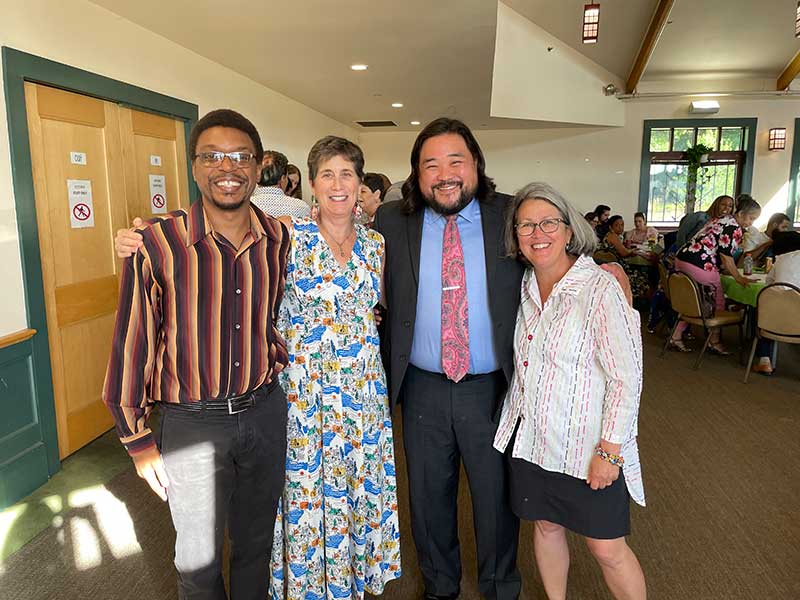 They walked in others' shoes, took on different perspectives, sought to understand how equity must live and breathe in all aspects of their work and personal life. They created and implemented Capstone Projects to improve outcomes for youth and families. Their projects included "riding for Black lives," "creating consensus with mission, vision, values," "detracking social studies curriculum," "leading with and without masks." These projects—aspects of which can be seen on this compilation video https://vimeo.com/735991065 helped participants struggle with what it means to get people on their bus (and at times finesse some folks onto a different bus). "Bus" is a metaphor from John Collins' "Good to Great," a foundational text of PSi, that talks about how you encourage, even compel, people to work with you towards your goals and to give you their best. Our participants study Grashow, Linsky and Heifetz's The Practice of Adaptive Leadership, as well as Glen Singleton's Courageous Conversations About Race, and through our yearlong program, some realize that they have stopped adapting and need to move on. All practice having difficult conversations with one another and with their work colleagues. In June, as they finish their final presentations, there is an enormous catharsis and realization: They have emerged as creative leaders.
Here is where they are now:
Crystal Alcala, Assistant Principal, Sarah Greenwood K-8 Dual Language School, Boston Public Schools, Boston MA
Patricia Arévalo, Assistant Principal, Chelsea High School, Chelsea Public Schools, Chelsea MA
Laurinda Baccus, Assistant Headmaster, 9th Grade Academy, Madison Park High School, Boston Public Schools, Boston MA
Ildulce Brandao, Assistant Head of Lower Division, The Park School, Brookline, MA
Lisa Cook, Executive Director, The Clubhouse Network
Georgette Copeland, Special Education Teacher, ABA Based Classroom K2-2nd, Boston Public Schools, Boston MA
Dave DiPietro, Department Head, Social Studies, Somerville Public Schools, Somerville MA
Demetrius Fuller, Art Teacher, Sokolowski School & Art Department District Lead, Chelsea Public Schools, Chelsea MA
Rebecca Iyore, Assistant Principal, 9th grade, Lawrence High School, Lawrence Public Schools, Lawrence MA
Chris Madson, English Teacher / Lead Teacher, John D. O'Bryant School, Boston Public Schools, Boston MA
Luz Maldonado, Family Liaison, Madison Park High School, Boston Public Schools, Boston MA
Jessica Martinez, Student Support Coordinator, Fenway High School, Boston Public Schools, Boston MA
Emily Monteiro, Consultant
Taryn Moon, Assistant Principal and Math Specialist, Alcott Elementary School, Concord, MA
Juan Mora y Araujo, Director, EdStudios, and the Center for Artistry and Scholarship
Caitlin Nelson, Equitable Literacy District Coach, Boston Public Schools, Boston MA
Peter Pappavaselio, Performing Arts Lead Teacher, Chelsea High School, Chelsea Public Schools, Chelsea MA
RL Reynolds Lupo, Director of Student Support, William E. Russell School, Boston Public Schools, Boston MA
Anthony Rhodes, Dean of Discipline, Fenway High School, Boston Public Schools, Boston MA
Marianela Rivera, Executive Director, Fortaleza, Lawrence MA
Alex Sanchez, Director of Culturally Responsive Teaching and Learning, Chelsea Public Schools, Chelsea MA
Cam Scott, Data and Accountability Manager, Boston Day and Evening Academy, Boston Public Schools, Boston MA
Sneha Walia, History Teacher, Boston Latin Academy, Boston Public Schools, Boston MA
Lynn Weisse, Social Emotional & Academic Development Coach, Boston Public Schools, Boston MA
Here are some quotes about what they said about the year:
This experience has changed me as a person and a leader in many ways. I have a new lens through which I see everything… As a leader, I have learned that you do not always have to be loud to be heard. Quiet voices have power too.
PSi has given me more confidence in my leadership. I knew I had people's respect at my school, but I never felt confident enough to take on an administrator role. PSi helped me understand the expectations of an admin and how to live up to them.
PSi gave me a platform. Idea and action collided in a beautiful way, and PSi scaffolded that into the process. I was able to step out of the data box and be me. As a leader, I needed to pitch my idea to gain buy-in.

Based on feedback from each cohort, we learn how to improve and strengthen PSi. This year we note that we need to give them more support to move ideas into action. As one participant said,
I think there could be more focus on the specifics of moving ideas to action—that seemed to be the place we could have learned more. I think I would have given up some of the evaluation time or abstract theory of change time for concrete examples of strategic implementation.
We will strive to work on that next year.
For now, we are so proud of PSi 6 and we welcome you into our network! We can't wait to learn about the great leadership work you will all do!
-Linda Nathan