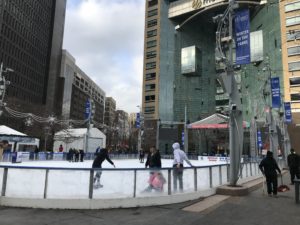 Recently, I traveled to Detroit to speak at the CS Partners annual conference. While there, I became enraged to learn about legislation related to the third grade reading test in Michigan that was passed two years ago by a Republican state legislature. Next year, this law will make retention for not passing the test a requirement. In other words, any child who has not yet mastered reading will be held back. The educational research literature about the damaging effects of retention is well known, but apparently not by those Michigan legislators. Ah, but this is Betsy DeVos territory, and the solution that has been put forward is tutoring to pass the test. Who will provide the tutoring? Outside providers, many of whom are for-profit operators. Once again poor children, and certainly black and brown children, will suffer the most.
I am proud that FairTest (I am on the Board) has been publishing a number of articles on the deleterious effects of this new law. The most recent story about the new law and its negative are is here, and you can also learn more here. FairTest.org also has a number of fact sheets and other materials about such policies, including this piece on testing and grade retention. 
The third grade reading test hurdle is a central component of the "reform" agenda that former Florida Governor Jeb Bush and his Foundation for Excellence in Education (sic) have been pushing around the nation. Generally, they have had success selling this scheme in states where Republicans control both the legislature and governor's office or where they have strong Democrats for Education Reform allies, as this fact sheet shows.
Thank you, Michigan, for letting me know about this horrendous policy. We all must speak out against this.
***
The schools managed by CS Partners do not adhere to a pedagogical or instructional philosophy, but they all hire CS Partners to provide instructional, leadership and operational, managerial and back office support. There were about 400 teachers and their principals at the conference. The schools all close the two days before Thanksgiving for this professional development.
Everyone was super nice and super engaged in being at the conference. I spoke on day two, following Chris Emdin (@ChrisEmdin) the day before. Even though Chris and I share the same publisher, editor (Beacon Press, shout out to Rachel Marks) and even some of the same message, we have radically different styles and backgrounds. Like the rest of the audience, I was quite taken by Chris' charismatic style and his message about pedagogy, which in his book For White Folks Who Teach in the Hood… and the Rest of Y'all Too, he calls Reality Pedagogy. At the conference, he used the term Pentecostal Pedagogy. His basic point to this group was that "when you are so hyper focused on one script, you miss the actual connections" that are necessary to make between teachers and students so that young people can learn.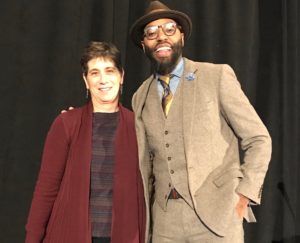 In other words, as I might say, the no-excuses or grit pedagogy is both racist and anti-intellectual. Edmin talks a great deal about how we must understand that young people can be both "ratchet" (and he does an excellent job explaining that to be "ratchet" means you exemplify all the negative characteristics often associated with urban spaces and black people—to be loud, obnoxious, etc.) and intellectual. He insists that schools, which perpetuate a white cultural dominance, make young people choose. He talks about a Jim Crow pedagogy that still exists in schools and young people "from the hood" are disregarded, and their natural intelligence and intuition are shunted, stunted and demeaned. Edmin, a self-proclaimed "hip hop dude" says that schools must be places where young people "are producers of stuff." I couldn't agree more. At my organization, Center for Artistry and Scholarship, we talk about supporting schools where teachers and students are making and doing.
Emdin asked this group of teachers if they'd ever been to the hood (many worked there). And he discussed how schools are more segregated today than ever before and that we keep employing strategies that have never worked. Doubling down on English and math is certainly not a solution for what ails schools.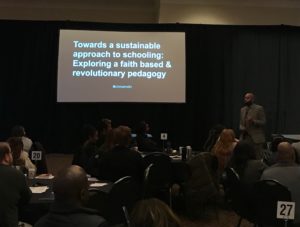 His message is deeply relational. Using the inspiration of Stevie Wonder, Emdin reminded the teachers that "you cannot teach in the key of life unless you do your own inner work and commit to a revolutionary pedagogy." In many ways, his words were music to my ears. Here is a science educator, from the "hood," exemplifying what is beautiful and right in the young people he works with. He still holds high standards for his science hip hop students, insisting, "You can't give a lousy trope" and he gives examples of what good and substandard raps. His message is important and not new: unless we meet and honor young people's lived experiences, we cannot hope that they will engage in school.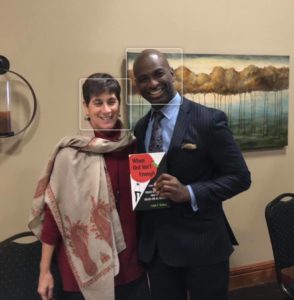 It's why I so strongly believe in the arts as a way to engage young people in school. It's why I firmly believe that when our schools are deeply focused on ways for students to be makers and doers (and a strong arts curriculum can support that), then our students will believe their education matters. We must ensure that teaching is a creative enterprise; we must ensure that there are many creative spaces throughout a school building for students to "muck about," and we must continue to introduce curriculum that supports many ways for young people to make sense of their world and to deeply engage in it.
I was proud, in my talk, to give the example of how fourth, fifth and sixth graders at Conservatory Lab Charter school wrote and composed music about the terrible physical conditions of their school which currently is a wing of a hospital. "We'll Still Rise" tells the story of the students' desire for a real school building, not one with hallways too narrow to pass while carrying an instrument, no gym for physical play, no cafeteria nor library nor dedicated music rooms. Their original music reflects their worries about not having adequate facilities and feeling, literally, homeless. Young people who experience a curriculum where student agency and voice is a daily expectation may have stronger educational outcomes since they come to believe that education is about both self-improvement and improving their communities.
This is certainly true at Boston Arts Academy where students are taught to be artists-scholars and citizens—and not citizens with its baggage to mean 'with legal documents' but an individual or group that cares about discussing difficult issues through an art form. In the dance "Speak," choreographed by William McLaughlin and his students, young people delve into their understandings of homophobia, violence in their neighborhoods, racism and a host of other issues that they confront on a daily basis. Their ability to use dance to express both their sense of hope and their fury moves audiences to feel and react in ways that words alone cannot provide. I was honored to share this example as well with Michigan teachers (link).
I fervently believe that when schools and classrooms provide opportunities for young people to embrace languages, cultures, movements and art forms that are foreign to our own culture and perspectives we create opportunities to build bridges and understandings that can improve our worlds. Our job as educators is to help young people critically perceive the way they exist in the world—and the world not as a static reality, but a reality in the process of transformation. We can be part of that transformation.
***
I was able to slip out of the conference and visit Detroit School for the Arts which shares a building with Detroit Symphony Orchestra and Detroit radio station WRCJ. It was wonderful to watch young people pass through hallways where professionals are at work and where these students might intern or perform one day.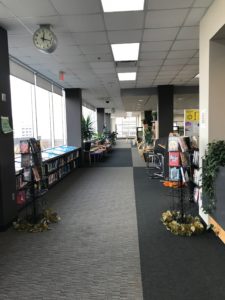 The physical building (DSA got its renovation in 2005) is absolutely beautiful– sparkling clean and well-lit with amazing studios and performance spaces (many of which are rented out or used by the symphony orchestra for rehearsals).
Students appeared to have a true sense of purpose as they went from academic to arts classes and prepared for Noel Night which is DSA's big community. My host, Rose Gant, knew every single student we ran into and had a quip or a question for everyone. Clearly, they all loved and respected her, too. Teachers were happy to meet someone who came from a "sister" art school and wanted to share ideas. I was particularly impressed by the library (and of course the gorgeous views of Detroit from there) and the way the librarian, Karen Lemmons, posted books for students to read. Of course, if you judge DSA just by test scores, you'll see that the results are low.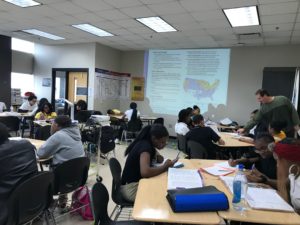 But I can assure that students in this school are engaged in learning and thinking about college and returning to visit the school from college. (I met a number of graduates who now work at the school and were also visiting from college break to work on various projects in the school's studio spaces.)
We cannot continue to judge our students and our schools from the current test-prep dominant lens. We must be engaged in revolutionary pedagogy that will allow our students to be involved in the "organized struggle for their liberation so that they begin to believe in themselves. This discovery cannot be purely intellectual but must involve action…" (Freire)
Here are some of the most provocative questions teachers asked during my workshop and talk:
How many years to make a good teacher?

How do I lead as a white person when my school is almost all students of color?

How do I develop stronger "race muscles" so I am more comfortable talking about race?

What do we say about college? How can we ensure our students have more career and technical options?

How can we better help our students develop their passions?

Why are we so afraid of talking about helping young people be happy?

How do I better help my severely special needs students live a life with dignity?

How does visiting one another's classrooms help us become better teachers?
It's hard to remember that there is a teacher shortage in this country when I am with 400 such dedicated trustworthy professionals. Maybe that's the next campaign slogan: Trust a Teacher!
Thank you #CSPartners for the opportunity to get to know your schools and faculty. I look forward to coming back. Thank you Detroit and Michigan for sharing your knowledge and work.